Generate Passive Income: Teach & Sell Your Courses As A Mentor, Coach, Trainer, or Course creator
Unlock a world of possibilities and financial freedom by leveraging your expertise as a mentor, coach, trainer, or course creator. With this exciting opportunity, you can turn your knowledge into a lucrative passive income stream. Design and deliver high-quality courses that resonate with your target audience and sell them online.
By sharing your skills and insights through comprehensive course content, you can attract a global community of eager learners. Seamlessly market and sell your courses through various online platforms, reaching a wide audience and maximizing your earning potential.
How We Measure Up To The Competition
Coaching Platform
Create Unlimited Courses (FREE)


Engage With Your Communities


Live Lessons & Events (Connect Your Zoom Api's for FREE)


Create A Community Around Your Course


Pricing: Is Flexible, you only pay when you make money from selling your course


Create Unlimited Community (FREE)


Unlimited spaces per community (FREE)


Course building option (FREE)


No branding or watermark added
Get Started
Courses Platform
Create Unlimited Courses (Starts at $36/mon)


Engage With Your Communities


Live Lessons & Events (Starts At $74/mon)


Create A Community Around Your Course


Pricing: Free Version is available but limited features for instructors with popular plan starts at $149/mon.


Create 3 communities with 20 spaces maxi (starts at $149/mon)


Unlimited spaces per community (FREE)


Advance course building option (starts at $74/mon)


Remove water mark and branding option (starts at $149/mon)
But With Us Its All FREE
Course Builder
Create Unlimited Courses (Starts at $79/mon)


No Community Engagement Option


Live Lessons & Events (Starts At $79/mon)


There are no FREE plans, payment starts from $24 basic plan


Pricing: No Free Plans, Pricing for popular plans starts at $249/mon.


e-book builder, survey builder & pop-up builder(starts at $79/mon)


Progress Reports & ApI integration starts at $249/mon


1 admin instructor access>(starts at $24/mon)


Unlimited courses (starts at $79/mon)
Pay When You Earn From Courses
The Struggles That Coaches & Instructors Go Through
Monetizing Your Mentorship/Coaching Program: As A Mentor Seeking To Impact Young Lives
As a beginner: Starting out as a young professional in coaching and mentorship can be quite frustrating without proper guidance on how best to monetize your program. Due to the numerous challenges associated with your niche of mentorship. As a professional mentor in a non-marketing industry, you might struggle with the following, but not limited to:
Struggling to drive traffic to your mentorship or coaching programs either for you or for someone else?

Isolation: Coaching can be a solitary profession, and coaches may struggle with feelings of isolation or a lack of support. But with Mysparklite you have a family to support you.

Struggling with crafting good brand messaging copy and creatives to help solve the Initial problem of driving traffic?
Struggling to make sales even after driving traffic or generating little or no conversion to show for at the end of the day.  
Starting A Profitable Mentorship/Coaching Program
Challenges with the existing solution: If you own a group on Facebook, WhatsApp, Quora, or Even Reddit. Where you help others looking for help find quality help through groups. Messages and communication can get quite overwhelming very fast, especially during live chat sessions from invited professionals. For mentors using their WhatsApp group for mentoring.
Here are a few points we want to coaches face:
Marketing and branding: Many coaches struggle with marketing and branding themselves effectively, which can make it difficult to attract new clients and stand out in a crowded market.

Pricing and packaging: Setting prices and packaging coaching services can be a challenge for coaches, especially when they are just starting out and are unsure of their value proposition.
Scaling & Growing Your Mentorship/Coaching Program: Getting International Visibility & Exposure
As a professional/trainer: Scaling a mentorship program can be challenging, with issues such as finding qualified mentors and mentees, ensuring quality matches, and providing ongoing support. Our solution offers a comprehensive platform that streamlines the mentorship process, from onboarding to ongoing support, making it easier to scale and manage mentorship programs.
Lack of clients: One of the biggest pain points for coaches is finding and securing a steady stream of clients. This can lead to financial insecurity and uncertainty.

Time management: Coaches often struggle with managing their time effectively, balancing client sessions with administrative tasks and personal responsibilities.

Client retention: Retaining clients can be a challenge for coaches, especially when clients don't see results or lose motivation.
What You Get From Joining Us

Courses Marketplace/ Instructors Dashboard
When you signup to the MySparkLite coaching platform you have the option to either sell an existing course or start a new course via the platform
Start & Grow A Forum Around Your Course
After publishing your course on MySparkLite coaching forum, you will be able to create a forum around your courses and start and build a community around the course
Monthly Organized Webinar & Virtual Meeting
Starting out can be a bit difficult and tough that is why as a platform we would be organizing monthly meetings to discuss issues (V.I.P only)
Create Your Own Group Or Forum & Attach Your Courses To The Group Created By You
Are you passionate about sharing your knowledge and expertise with others? Now you can create your own group or forum and attach your courses to it, providing a comprehensive learning experience for your audience. With this innovative platform, you have the power to build a vibrant community of like-minded individuals who are eager to learn from you.
Creating a group or forum allows you to establish a dedicated space where members can interact, collaborate, and discuss the subjects that matter most to them. By attaching your courses to the group, you can seamlessly integrate your educational content and resources, providing a centralized hub for your students.
Organize Coaching: Stop Jumping From one Social Media Groups To The Other
How Will This Work: Organize Mentorship Sessions & Meetings Effortless Via Your Forum & Groups
Harness the power of your forum and groups to effortlessly organize mentorship sessions and meetings. This innovative platform provides a seamless and efficient way to connect mentors with eager learners. Create dedicated spaces within your forum or group where mentors can share their wisdom and guide mentees towards their goals.
With user-friendly scheduling tools and integrated communication features, arranging mentorship sessions becomes a breeze. Mentors can provide personalized guidance, answer questions, and foster meaningful relationships with mentees. The forum and group structure ensures that interactions are focused, productive, and conducive to growth.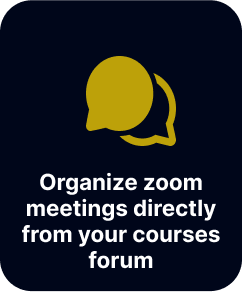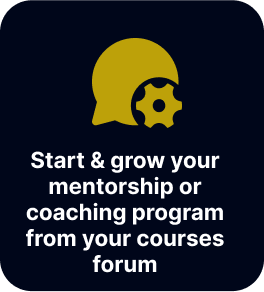 Organize Zoom Meetings

With Your Students/Mentee From Your Courses Dashboard in Real Time
Streamline your teaching and mentoring process by organizing Zoom meetings directly from your courses dashboard in real time. With this convenient feature, you can seamlessly connect with your students or mentees, providing interactive and engaging live sessions.
Effortlessly schedule and manage Zoom meetings within your courses dashboard, eliminating the need for multiple platforms or complicated setups. Whether it's conducting virtual lectures, holding Q&A sessions, or providing one-on-one guidance, you can easily orchestrate these meetings with just a few clicks.
Start Your Coaching Journey With Us
Start Selling your Courses For FREE with No Credit Card Required To Start
Start Your Own Coaching Community For FREE
Grow A Community or A Tribe Around Courses You Sell